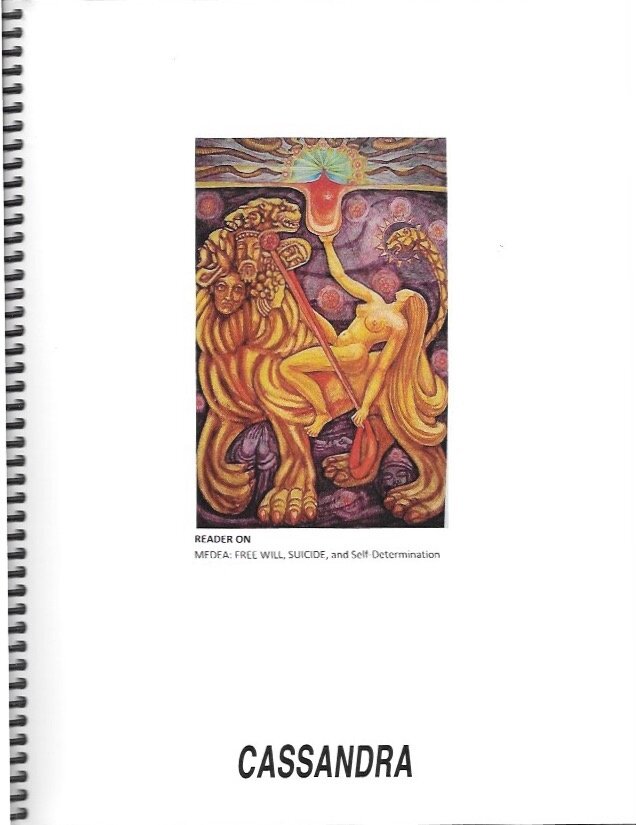 CASSANDRA: Reader on Medea: Suicide, Free Will, and Self Determination
Title: Reader on Medea: Suicide, Free Will, and Self Determination
Editor: Kandis Williams
Publisher: Cassandra Press
https://cassandrapress.org/B1-Readers
Contents:
Euripides and Donald J. Mastronarde, Euripides, Medea (Cambridge: Cambridge Univ. Press, 2010).
Leo C. Curran, "Rape and Rape Victims in the Metamorphoses." Arethusa 11, no. 1/2 (1978).
Aimé Césaire et al., "Notebook of a Return to the Native Land," in Notebook of a Return to the Native Land (Middletown, CT: Wesleyan University Press, 2001).
Stefano Harney and Fred Moten, "Fantasy in the Hold," in The Undercommons: Fugitive Planning and Black Study (Wivenhoe: Minor Compositions, 2013).
Richard Bell, "Slave Suicide, Abolition and the Problem of Resistance, Slavery & Abolition", A Journal of Slave and Post-Slave Studies, Vol. 33, No. 4 (December 2012).
Rosi Braidotti, "Transposing Differences," in Nomadic Theory: The Portable Rosi Braidotti (New York: Columbia University Press, 2011).
Andrea Smith, "Queer Theory and Native Studies: The Heteronormativity of Settler Colonialism," A Journal of Lesbian and Gay Studies, Volume 16, Issue 1-21 (April 2010).
Zakia Salime, "New Feminism as Personal Revolutions: Microrebellious Bodies", Signs: Journal of Women in Culture and Society, Volume 40, No. 1 (Autumn 2014).
Arik Moran, "Sati and Sovereignty," in Kingship and Polity on the Himalayan Borderland: Rajput Identity during the Early Colonial Encounter (Amsterdam: Amsterdam University Press, 2018).
Alison Liebling, "Prison Suicide and Prisoner Coping," Crime and Justice, Volume 26 (1999).
Despentes, Virginie and Stéphanie Benson, "Sleeping with the Enemy" in King Kong Theory (New York, NY: The Feminist Press, 2010).
Emmanuel Levinas, "Emmanuel Levinas in conversation with Bracha Lichtenberg-Ettinger," in Que Dirait Eurydice? = What Would Eurydice Say?: Eurydice, 1992-1996: Oeuvres De Bracha Lichtenberg-Ettinger (Toulouse: Paragraphic, 1997).
Available soon.
This item is currently checked out.