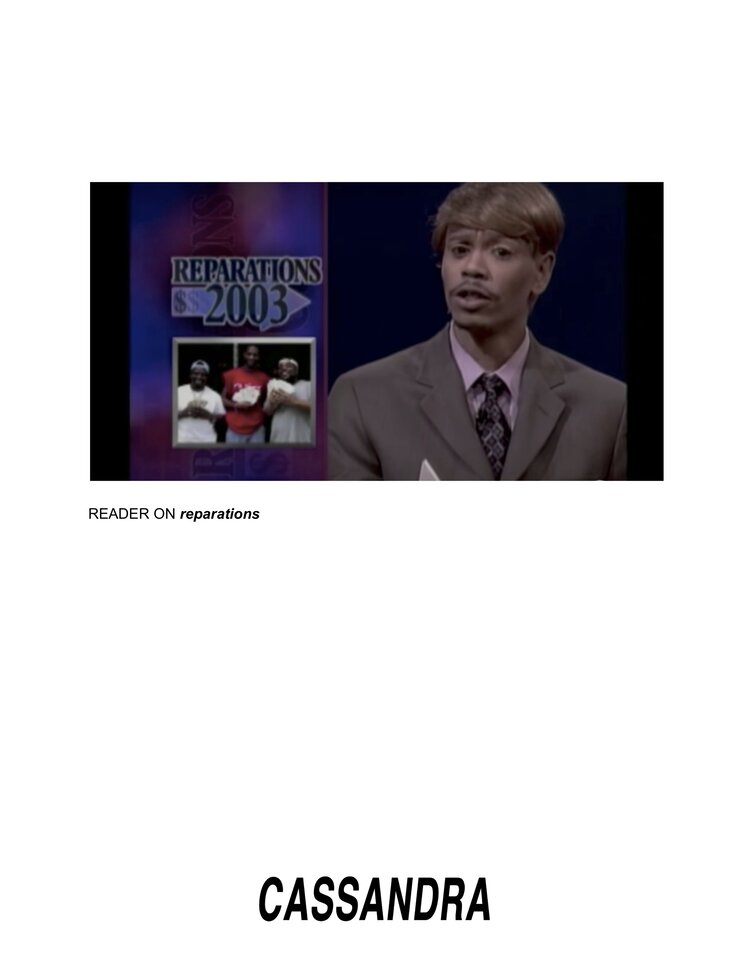 CASSANDRA: Reader on Reparations
Title: CASSANDRA: Reader on Reparations
Editor: Kandis Williams
Publisher: Cassandra Press
https://cassandrapress.org/B1-Readers
Contents:
Dylan Rodríguez, "Inhabiting the Impasse: Racial/Racial-Colonial Power, Genocide Poetics, and the Logic of Evisceration," Social Text Volume 33, no. 3 (September 2015).
Huey P. Newton, "Black Panthers 10 Point Program," in War against the Panthers: A Study of Repression in America (New York: Harlem River Press, 1996).
Ta-Nehisi Coates, "The Case for Reparations," The Atlantic (Atlantic Media Company, June 14, 2014).
Naomi Zack, "Reparations and the Rectification of Race," The Journal of Ethics Volume 7, no. 1 (2003).
Werner Sollors, ""Obligations to Negroes who would be kin if they were not Negro," Daedalus Volume 1 (Winter 2011).
Winona LaDuke, "Traditional ecological knowledge and environmental futures," Colorado Journal of International Environmental Law and Policy Volume 5, no. 1 (1994).

Allan D. Cooper, "From Slavery to Genocide: The Fallacy of Debt in Reparations Discourse," Journal of Black Studies Volume 43, no. 2 (March 2012).
Eric Posner & Adrian Vermeule, "Reparations for Slavery and Other Historical Injustices," Columbia Law Review Volume 103 (2003).
J. Angelo Corlett, "U.S. reparations to descendants of enslaved blacks in the U.S.," Journal of Pan African Studies Volume 9, no. 5 (2016).
Eric K. Yamamoto, :"Racial Reparations: Japanese American Redress and African American Claims," Boston College Third World Law Journal Volume 19, Issue 1 (1998).
Available soon.
This item is currently checked out.